Mansion Global - An Interview with Dara Maison Founder, Dara Huang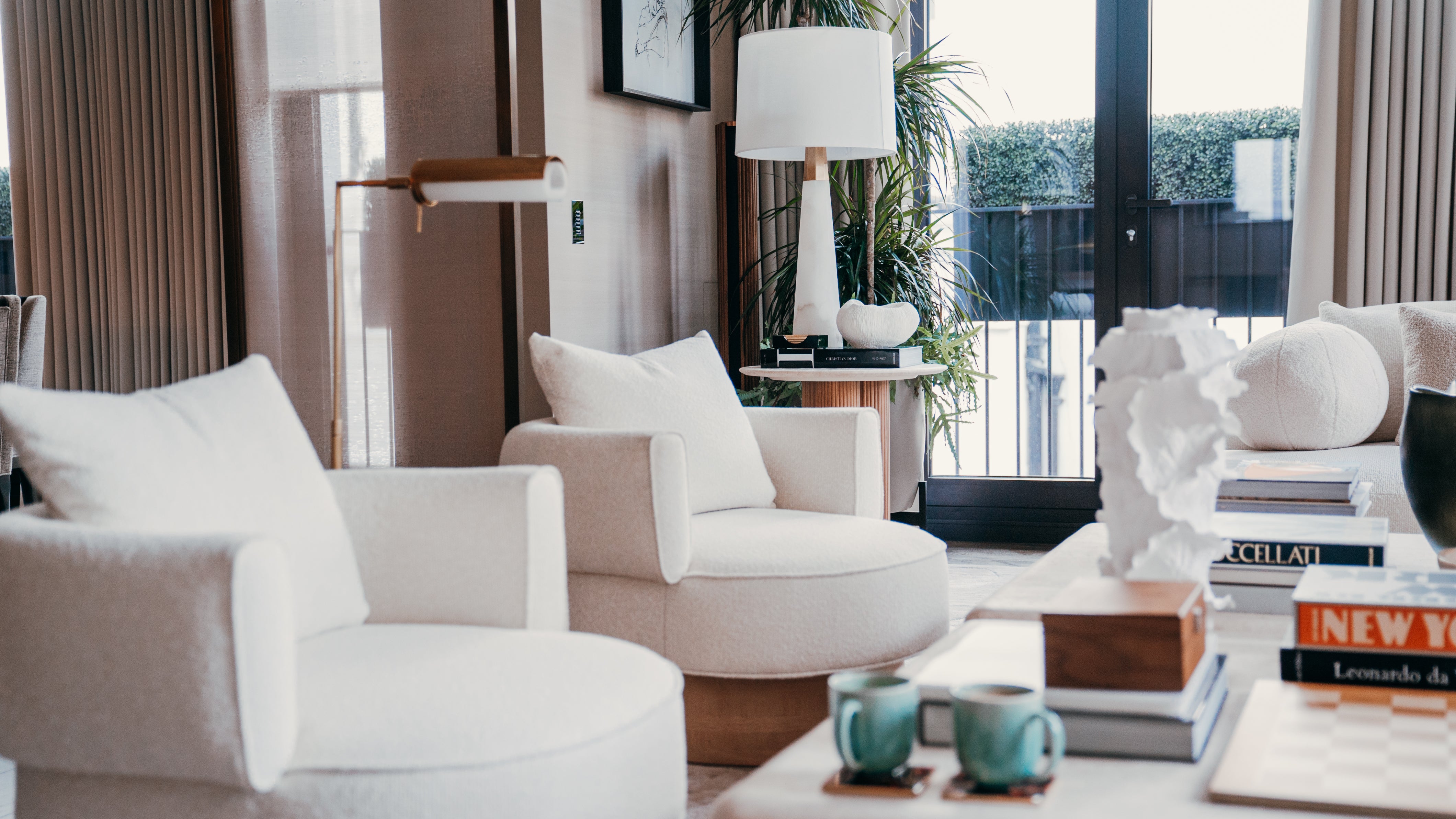 Celebrity Designer Dara Huang Offers Tips on Making Any Interior Look High End
She talks about educating clients, steering clear of tacky details and how kid-friendly furniture can still be luxurious. 
While Dara Huang has built a global design business from London, her roots are in the U.S. 
Florida-born and Harvard-trained, Huang moved to the U.K. in 2010 after working for Swiss architects Herzog & de Meuron in New York. In 2013, she founded interiors firm Design Haus Liberty, now a 20-person operation with clients like the Four Seasons, LVMH, Cartier, Nihi Resorts and Starwood Capital. Dara Maison, the furniture collection she launched this year, employs another 20. 
Huang's also become a small-screen celebrity in her adopted home country. She's head judge on Channel 4's "The Big Interiors Battle," a design competition whose grand prize is a mortgage-free apartment. And she's made headlines as the former fiance of property developer Edoardo Mapelli Mozzi, with whom she shares a child and who is now married to Princess Beatrice.
Huang's next projects include a Chelsea show home to launch in December that will highlight her own designs, "brands we vibe with" and artwork by women creators. 
"As a female-founded and -run firm, featuring underrepresented artists is important," she said. Huang spoke to Mansion Global about the relationship between money and taste, why imperfect is beautiful and why luxury means all-natural.
Mansion Global: Where do most of Design Haus Liberty's clients come from?
Dara Huang: We have many from Hong Kong and other parts of Asia, and a growing number from the Middle East. But most clients, and the biggest jobs, come from the U.S. There are lots of rich people with lots of big houses. We just finished a huge property on Billionaire's Row in Manhattan [on Central Park South]. We just completed a Hamptons home, and a Miami Beach waterfront house. For high-net-worth people in locations like those, it's almost like a hobby to want a refurb, or buy a property and turn it into a project.
MG: Are there particular tastes or preferences you've seen among your ultra-high-net-worth clients?
DH: Let's just say money doesn't buy taste. We try to veer away from clients who are really attracted to things like color-changing lights or crystal—that's not our vibe. We try to be as natural as possible. What's interesting is that we've worked with a lot of new-money people who've made it big in industries like tech, and they've never heard of quite common design terms, like book-matched marble or butterfly cuts. Sometimes they don't even understand the difference between porcelain and marble. We have to walk them through the process. 
MG: When you help guide a client that way, how much does the result resemble their taste versus yours?
DH: We just did a £30 million (US$36.7 million) penthouse for the founder of a digital creative business here. He loved our vibe, and he also loves industrial touches, like distressed metal. We're calling the finished product "industrial luxe." I love mixing time periods that are so rich and full of character. I love blending Victorian cornices with contemporary touches. When we started the job, I remember asking him about steam/shower combos, double sinks, heated floors. … He was unaware of those things. It was fun to walk him through it.
MG: For someone who wants an ultra-high-net-worth look without the splurge, what are some tips? 
DH: First, mix contemporary with traditional. Instead of wood molding, use dado rails, and paint them off-white. You'll feel like you're in a Parisian home. Pick the cheapest high-traffic, loop-pile carpet possible in a neutral color. Change lighting, too. Non-rich people can have ambience. Your home should have three types of lighting: indirect, like Ikea spotlights, plant lights that shine up, and direct light from downlights. Art lights are great too, even the magnetic battery-powered ones. They're the brass wall sconces that sit above artwork. Also, don't get a rug that's too small—it'll make your space look smaller. And get one investment piece, like a sofa or coffee table that'll last you a lifetime. I'd be my own worst client [laughs]. I actually like quick refurbs with zero money for the same look.
MG: What's the philosophy behind Dara Maison, the furniture line you launched this year?
DH: We want people to think about furniture in a non-fast-fashion way. It's not like buying Ikea, where you're constantly throwing things away. We sell stone tables that are investment pieces; they start around £2,000. It's a piece I'd call sustainable because you'll have it for the rest of your life. Likewise, our introductory prices for sofas are "affordable luxury" price points, they start at £3,500, but they look like £50,000 sofas. 
MG: If you had to choose a signature piece from Dara Maison, what would it be? 
DH: The Athena sofa is one of our bestsellers, and I love it. It's a combination between an orthogonal and curved sofa, so it has soft lines. It's also modular. I've never seen another sofa like it. 
MG: You've talked about how being a single mother has influenced your furniture designs. Does that come through in Dara Maison?
DH: Definitely. When we created samples, the client was me. We wanted to tick all the boxes for families. Remember when we were kids, and there were rooms you couldn't go into because of the furniture? I wanted to do away with that. Our sofas are Scotchgarded, easily cleaned and stain-proof. This is furniture your children can actually use and not just look at. There's none of the "Don't sit there!" aspect. It's a myth that furniture can't be both child-friendly and luxurious. 
MG: What's your personal definition of luxury?
DH: Luxury is being real. I want a real stone table, I want it to look like stone, and I want to know where it came from. I love going to a quarry and seeing a rough edge. I love real, solid wood. Nature is the most beautiful designer we have. That's why so many of our pieces have organic shapes. We even crack the edges of one of our tables. At a quarry recently, I saw a piece of marble with one side that was naturally cracked along the veins. Nobody wanted it. I loved it. I want to share that beauty.
This interview has been edited for length and clarity.